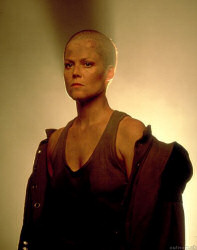 Drewbie Neitzel: Very diesel
And we're back.
As any LOST viewer knows, asking too many questions about sudden absences and inexplicable reappearances is a complete waste of time. So, instead of going into great depth about how a phone call from traveling reporter Paul Germain this afternoon sparked an Ali-like return to the ring (OK, more like a Josh Huston return to the field after getting a 6th year of eligibility, but lets not get picky) lets focus on the 'dem Bucks.
It is now all but certain that Matta's youngins are destined for mediocrity in the only tournament that celebrates it, The N.I.T. (insert clever acronym joke here.) After the winning two games over ranked teams,
OSU couldn't convert the back-end of a two-game series with Michigan St.
The villain this afternoon? Other than some aggressive, if not questionable officiating (3 fouls and a technical in under two minutes—all against the Bucks), Drew Neitzel (28 TP, 6 3-PT) can be blamed. Neitzel is the quintessential Big Ten basketball star: he's awkward off the court, somewhat exotic yet catchy name, not attractive by any measure (*cough* Sigourny Weaver in Alien 3) , almost anonymous outside the conference and has been around for waaaay too long
(See: Duany Duany.)
Give Koufos his due credit for playing like the natural talent he is before the whistle got in the
way and try to avoid the "what if" game with Othello Hunter (right, sans O-Hawk) and what could have been if he was around for another two years.
What it boils down to: can you honestly say this is one of the top 64 teams in the country and still look at yourself in the mirror? I tried, and it doesn't feel good.
On the other hand, I don't doubt that this team, despite being streaky, clumsy and unlucky, could beat about 32 of the teams that will hear their names called on Sunday.
So, considering the flaky, contradictory musings above, one can expect a weird and appropriately ambivalent March in Columbus.

photo/ JIM DAVIDSON-THE O-ZONE